Match de barrage le 29 mai 2022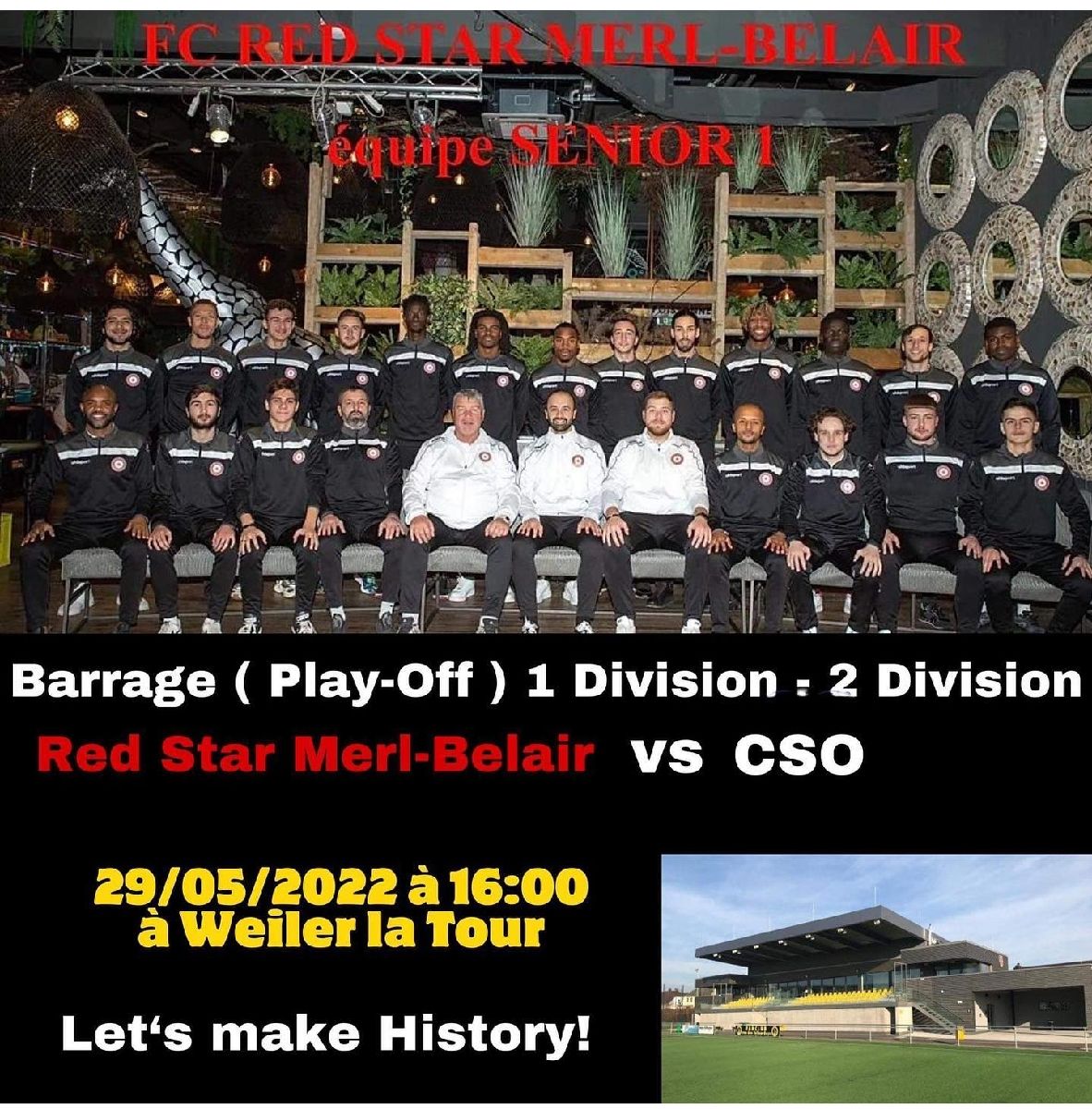 english text below
Chers joueurs, chers parents et amis du Red Star,
Venez toutes et tous soutenir notre équipe SENIOR qui disputera
ce dimanche 29 mai 2022 à 16.00
le match de barrage pour la montée en 1ère division contre CS Obercorn.
Le match se joue à Weiler-la-Tour, Stade Am Dieltchen, rue de Luxembourg.
Il s'agit du match le plus important de la saison pour notre club afin de pouvoir monter en 1ère division, une montée que le club attend depuis des années.
Les joueurs, les entraîneurs et tout le club ont travaillé dur pendant toute la saison et méritent ce match de barrage.
Venez toutes et tous supporter notre équipe fanion.
L'équipe mérite le support de nous tous. Ensemble nous sommes plus fort.
Et n'oubliez pas de mettre votre vos tenue RED STAR et d'amener tout ce qui peut faire du bruit.
ALLEZ RED STAR
Dear players, dear parents and friends of Red Star,
Come and support our SENIOR team which will play
this Sunday 29 May 2022 at 16.00
the play-off match for the promotion to the 1st division against CS Obercorn.
The match will be played in Weiler-la-Tour, Stade Am Dieltchen, rue de Luxembourg.
This is the most important match of the season for our club in order to be able to climb to the 1st division, that the club has been waiting for for years.
The players, the coaches and the whole club have worked hard during the whole season and deserve this play-off match.
Please come along and support our team.
The team deserves the support of all of us. Together we are stronger.
And don't forget to put on your RED STAR gear and bring anything that will make a noise.
GO RED STAR